Welcoming our Duke Scholars!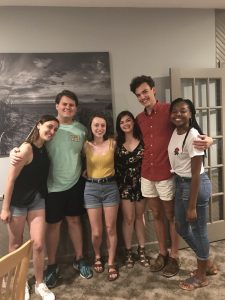 We are lucky enough to have one more summer with our wonderful Duke Scholars! We've got six great rising sophomores working with our summer academy this year, and we welcome them to our county.
Last year the scholars helped hatch the idea for the Tour de Plantersville, a hit among those who attended. We hope to have an equally productive summer with our Scholars again, cultivating what they love while growing our program for the County.
A lot of the students this year have a passion for teaching. David Conlin from Charlotte is majoring in Spanish and cultural anthropology, and he plans on being a teacher somewhere in the Carolinas. He can't wait to "work alongside some awesome educators at Plantersville [Elementary School]."
Other students really want to focus on the health of our youth, and see education as such an important aid in that goal. Sarah Watkins is from Winston Salem and plans on majoring in psychology with a minor in global health. Sarah is mostly excited to learn about Georgetown County and its rich history, and looks forward to being a part of it. Another student, Alex Merz from Raleigh is double majoring in chemistry and global health with a pre-med track. Alex "can't wait to further foster [her] love for teaching."
As you can see, they've got a very diverse set of skills. And that's just half of them! They have already started working with our Plantersville Enrichment Academy, and will be here through the summer to help with the Plantersville Summer Academy. They'll be doing everything from being in the classroom to keeping up with taking lots of pictures for us!
Whatever they may end up doing for our programs, we sincerely hope that they will enjoy their time here as well as gain an immense sense of purpose and appreciation. We are so appreciative to have another year with the Duke Scholars, and we hope to see you all after this 10 weeks is up!