The Village Group works for community improvements in many forms. Below is the story that sets the Village Group apart through its extensive, interconnected approach to community improvement. We tackle educational gaps, shape strong personal visions, and deliver food justice to support stronger families, building a better future for our youth.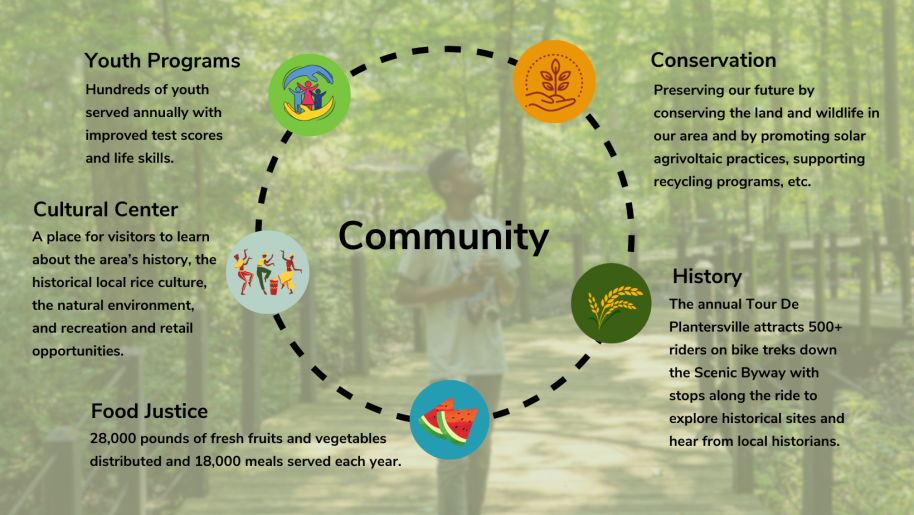 Youth Programs
Through summer and after-school programs that use evidence-based BellExcel curriculum, hundreds of youth receive the help they want and need to succeed in school and life. A family-focused program – Literacy Is for Everyone (LIFE) – brings reading home to engage everyone. Our Village Media Club trains youth in the power of the image and how to communicate using it. Village Flyers Bike Club promotes personal responsibility and healthy habits while enjoying a group activity with mentors.
Cultural Center
At the east end of the Plantersville Scenic Byway is an acre of land at the northwest corner of Plantersville Road and Hwy 701. The site is designated as the Plantersville Cultural Center (PCC) and home of The Village Group. The Center offers visitors a place to stop and learn about the area's history, the historical local rice culture, the natural environment, and recreation and retail opportunities.
Food Justice
The Village Group already acts as a conduit for 28,000 pounds of fresh fruits and vegetables distributed and 18,000 meals served each year. Unfortunately, Plantersville Community residents live in a food desert with the nearest supermarket 13 miles away. This spurred our recent initiative — Dirt-to-Dinner – to raise food on-site and distribute it to community members.
Conservation
We seek to preserve our future by conserving the land and wildlife in our area. We promote solar agrivoltaic practices, protect wetlands, support recycling programs, and clean cup communities.
History
Plantersville sits on the Scenic Byway of Georgetown County. Along the Byway stand plantations from the colonial era that are part of the region's rich rice farming history. These sites contain several pre-Civil War landmarks – mansions, slave houses, churches, rice Chimneys, and other ruins. The annual Tour De Plantersville attracts 500+ riders on bike treks down the Byway on trips from 12 miles to 62 miles with stops along the ride to explore history.