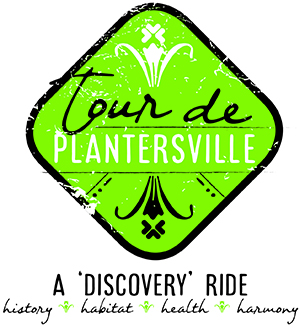 Save the date for the inaugural Tour de Plantersville discovery ride
Saturday, April 21, 2018
Registration Fees
Bike Riders:
$35 for adults
$15 for children
What is a Discovery Ride?
Kicking off at 7:30am on April 21, 2018, The Tour de Plantersville is a unique cycling event designed to bring people together TO DISCOVER…
History: Gain awareness of the historically-significant land surrounding the Plantersville Scenic Byway. Along this stretch, there are ten plantations from the Colonial era that are part of the region's rich rice farming history. These sites contain a number of pre-Civil War landmarks – mansions, slave houses, churches, rice chimneys and other ruins. The Tour de Plantersville has designated stops encouraging bike-riders to explore these grounds.
Habitat: Explore and enjoy the area's natural beauty by submerging yourself in it. The Dirleton Plantation-Samworth Wildlife Management Area is located along this stretch of byway and offers a chance to see some of the region's wildlife in its natural habitat.
Health: Discover your own strength by challenging yourself on one of the routes planned for the event. The Tour de Plantersville encourages physical activity for all participants in the hopes of combating sedentary lifestyles and especially childhood obesity. Group participation, including children, is strongly encouraged.
Harmony: Foster community togetherness during the ride and at the post-ride celebration. The Tour de Plantersville provides a safe and fun environment to build meaningful relationships and to learn – developing a sense of pride for the area's beauty, history and people. Come together for The Village Group, the Village Flyers Bicycle Club, and Plantersville Summer Academy, which engages underserved local youth in summer learning programs to encourage leadership and support academic success.
Download/Print the flyer here »
Sponsorship opportunities are available.
More questions? Contact tourdepville@gmail.com
Find the Tour de Plantersville on Facebook:

Liability Statement:
Notice: Please read this carefully so you fully understand this notice and its contents, and agree to its terms. FOR YOURSELF OR YOUR MINOR CHILD, AS PARTICIPANT IN THE TOUR DE PLANTERSVILLE, AND YOU AGREE: I have chosen to participate in this event sponsored by The Village Group. I understand that this ride has risks of injury and damage to person and property ranging from slight to severe. I undertake that risk of my own free will, and understand that I alone am responsible for my safety during the Tour De Plantersville along the premises where the program takes place. I understand these facts, and I am participating in this activity at my own risk. I further represent that I have undertaken to prepare myself for this program, and I have not received any medical or other professional advice to abstain because of my health or physical condition. I know of no reason why I should not participate in this program. If I am injured in any way during the conduct of this program, I authorize The Village Group to seek whatever medical attention may appear to be necessary, and I will be financially responsible for such care